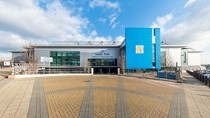 CURRENT VACANCIES
Receptionist
Exeter Rugby Club is looking for an experienced receptionist, with outstanding customer care, excellent administration skills and professionalism as second nature.
Working Hours (PT Job Share) – Wed, Thurs & Fri 08.30 – 17.30 and match days (Match Days are approximately 16 Saturday or Sundays a year and are paid extra as overtime)
General Responsibilities – To deliver friendly, efficient customer service and to create a warm and welcoming atmosphere for all of our guests at Sandy Park Conference Banqueting Centre, with the key aim of retaining and attracting new customers. Alongside supporting management with various administrative tasks required day to day and hosting the VIP reception on match days.
Main Duties and Responsibilities
The main duties and responsibilities of the job holder are to:
Deliver excellent customer service at all times.
Deal with all enquiries in a professional and courteous manner in person, on the telephone or via e-mail.
Keep up to date with current Sandy Park events and Exeter Rugby Club match days, to provide key information to customers.
Liaise with the relevant departments regarding any queries/requests from guests.
Manage the main switchboard, handling all calls appropriately and efficiently.
Manage the car park system on a daily basis.
Manage the key cabinet, signing keys out to relevant personnel on request.
Manage contractors passes, signing in and out as advised from the relevant department.
Update the communications TV and information board daily with relevant details.
Provide extra administrative support to other departments as necessary.
Be the first port of call for recruitment of all casual staff, facilitating all necessary administrative processes and communication necessary with casual staff.
Sign and store all deliveries, liaising with the relevant departments for collection.
Keep up to date the lost property folder, liaise with relevant persons regarding collection of possessions.
Provide holiday and sickness cover for the other receptionist as required.
Adhere to the company's uniform policy at all times when on duty.
Adhere to company policies and procedures at all times reporting any issues to your line manager.
This job description may not contain all the duties and responsibilities that may arise in this role and you may need to undertake other duties as instructed.
Person Specification
The job holder must:
Have at least 1 years' experience in a similar role.
Driven by delivering exceptional standards.
Be professional and well presented.
Be able to communicate well with people at all levels.
Superb attention to detail.
Be able to prioritise duties in a fast-paced environment.
Be able to work unsupervised and manage their time efficiently.
(Only applicants successful for interview will be contacted)
Job Type: Part-time
Salary: £10.34 per hour