The team at Sandy Park take great pride in their award-winning customer service. Find out what previous customers have said about their experiences at Sandy Park below.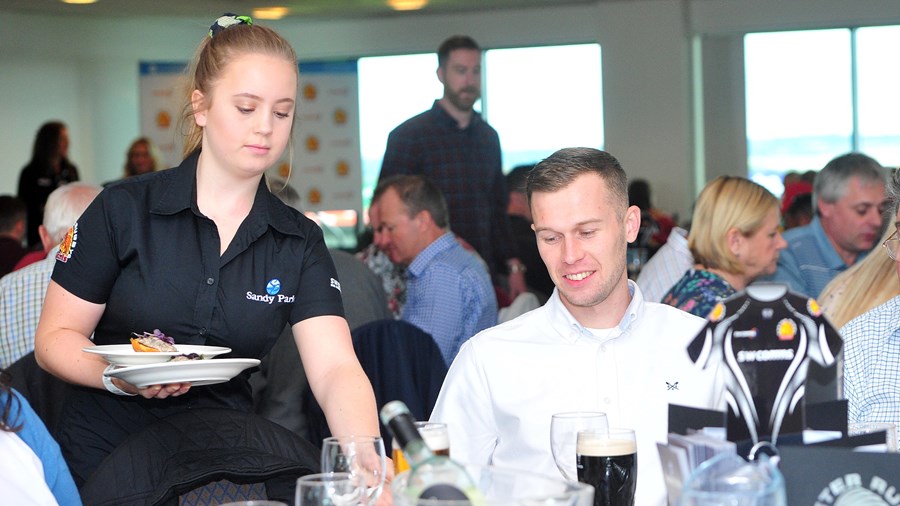 A huge thank you to you and your colleagues who were involved in helping to organise the event yesterday afternoon.
The event went extremely well and the service we received was fantastic! The food was lovely and the dietary requirements were met. A slight hiccup with the refreshments as I thought I had ordered teas/coffees to accompany the food, however this was dealt with quickly and professionally.
I will certainly consider using Sandy Park in the future and would recommend it to our stakeholders/colleagues.
Kirsty, Serco - June 2018
We had a fantastic day yesterday so must pass on how helpful your team were. There were a few technical issues in the morning but Rob and the team were always on hand to help and nothing seemed like too much trouble.
The food was great and the team were really quick to respond with replenishment and dietaries, which was a great help with us all being so busy.
I wanted to make a special mention to Ian as well. As you know this was our SEND conference, and we had a lunchtime performance from a local schools Taiko Drumming group made up of children with Special Educational Needs. He was brilliant in welcoming them, helping them with all of their equipment and just generally making them feel at ease in what for them was quite an overwhelming situation. He really couldn't have done enough so massive thank you to him for his efforts with this, and indeed throughout the day as well.
Jess, Babcock - June 2018
On behalf of ICAEW I would like to thank you, Marcus and all the team at Sandy Park for a wonderful evening last Friday.
All the staff are so friendly and always happy to help, which is greatly appreciated.
I received some great comments about the food which was served very efficiently and timely by the waiting staff - a very slick operation.
My feedback is entirely positive, it is an absolutely joy to work with such a professional team which makes my job so much easier.
Trudi, ICAEW - May 2018
When we decided to add a new event to the Sight Village calendar, sourcing the right venue was essential to its success or failure and Sandy Park was absolutely the right choice.
Exhibitors and visitors appreciated the space and natural lighting afforded by the Exeter Suite; having everything on one level and fully accessible was also a bonus.
The venue was well received by our visitors and we received many positive comments on the day.
Please thank all the staff for being so attentive; nothing was too much trouble and everyone was extremely efficient and pleasant to work with – it was great to arrive with the room laid out to our specification and members of your team on hand to assist.
Karen, Queen Alexandra College - April 2018
We have used Sandy Park a few times over the past 5 years and it is consistently good. Spacious meeting rooms with adjacent catering space, ample parking and easily accessible. Very helpful and efficient staff from the booking team to the onsite team. Meeting facilities are on the whole pretty good. They offer good value. Our delegates scored facilities and catering over 92% as 'good' and 'very good', the top choices.
Siobhan, Cactus Events - February 2018
Well what can I say, everything was perfect. Marcus and the team were fantastic. Northing was too much trouble. We were so pleased with this venue and honestly could not fault anything.
Thanks again for making this a great event for us.
Lynsey, Hays Travel - January 2018
I just wanted to say a massive thank you for all your help with JIF pre event, it was great to work with both of you. I also wanted to say a massive thank you to Craig and the team. They were incredibly helpful, friendly and lovely to work with and made the whole day very easy and manageable (P.S. the biscuits were the nicest biscuits I have ever had!!)
Polly, Pow Wow Events - November 2017
I just wanted to say that your team on the day were so helpful, in particular our contact Marcus. Everyone was happy to help and no request was an issue. All of the team were friendly and professional. Your team made it a pleasure to work with, both before and during the conference. I wouldn't hesitate to host an event at Sandy Park in the future.
Emma, NHS England - November 2017
I just wanted to say thank you for a great meeting on Wednesday, the team were absolutely superb.
I was starting to doubt customer service from a couple of other venues we used in the previous week and in one day you managed to restore my faith in it all! Marcus was great as usual, nothing was too much trouble and everything I required was ready and waiting. Even when lunch was brought forward by 10 mins the ladies sorted it all in time and everyone was served quickly and efficiently – lunch was also great.
Ian always deserves a mention just for being lovely and checking on us to make sure everything is good.
Louise, Simply Biz - September 2017