The team at Sandy Park take great pride in their award-winning customer service. Find out what previous customers have said about their experiences at Sandy Park below.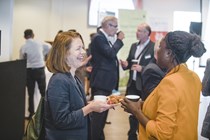 I wanted to offer our thanks and grateful appreciation for the fulsome support, advice, guidance and sheer hard work you have afforded toward our Event. The feed back I have received thus far has been very generous and genuine in spirit in offering thanks and congratulations for a super event and this, in no small measure, must be attributable to you both and the hard-working and attentive catering, serving, bar and other support staff. Hopefully, you are both as pleased as we are for the way that it showcased the way Sandy Park can manage such large-scale events.
Craig Cox, Provincial Grand Lodge of Devonshire
A huge thank you to you and to all your colleagues for the support you gave to our events yesterday. It's a pleasure to come to Sandy Park, we know we can rely on you to deliver excellent service both leading up to the event and on the day itself.
Everything on the day went smoothly and any queries were dealt with immaculately by your operations team. A special shout out to Grandad and Jenny, they were so friendly and helpful, we really appreciated their help and they really went the extra mile, to Debs on Reception who was very smiley and helpful, and to Simon and Craig for being on hand when we needed them.
The food was very much enjoyed, I received some lovely comments, particularly on the lunch and cakes!
We look forward to returning to Sandy Park!
Penny Tutty, The Exeter
I am writing to say a huge thank you for supporting us to hold two recent events at Sandy Park.
Your team and venue helped us to host a really professional and polished day for our leaders.
With the Awards event, our aim was to celebrate our hardworking staff and volunteers, and to express an extra special thanks to those recognised by their colleagues as truly extraordinary. I know I speak for all those who attended when I say that we absolutely achieved that – it was truly a fantastic evening.
You and your teams were a great support and I would like to thank them for their professionalism and flexibility which made these important events a success.
Royal Devon & Exeter NHS Foundation Trust
Thank you so much, everything was so amazing yesterday. The Ops team were the best I have ever worked with (and I worked in events for 10 years!) and the whole day was so slick. Henry, Magda and a wonderful lady with dark hair- I've forgotten her name- were so attentive and a real asset to the venue.
The Maynard School
I just wanted to drop you a note to say a BIG thank you for your help and support with the Staff Conference today – it was a massive task to ensure almost 500 people were seated, fed & watered, and looked after so well by you all.
We really couldn't have done it without your flexibility and solutions, so thank you. Please pass on a special mention of 'thanks' to Becky & Ian, who were both incredible today, they really were invaluable.
NHS England
A BIG thank you for your help and support with the Staff Conference today – it was a massive task to ensure almost 500 people were seated, fed & watered, and looked after so well by you all. We really couldn't have done it without your flexibility and solutions, so thank you.
Jane Appleton, NHS England
On behalf of all who attended Sandy Park yesterday I would like to express our sincere thanks for all the you and the Sandy Park staff have done to make our meeting successful. Everyone has gone away with an excellent impression of the venue and helpfulness of the staff.
On personal note, I am extremely grateful for all your help and that of the Operations team as you were all so helpful. Craig and his staff were excellent in the way they set up the rooms and gave me practical help on the day.
The catering team went about their tasks very efficiently at the luncheon and all remarked on the good quality of the meal and the good service. The Bar staff had their work cut out serving so many at the end of the meeting, but they were still smiling when we left.
My boss and head of the Order, Ian Kingsbury, has expressed his thanks this morning .
I would be grateful if you would kindly pass on our thanks to all the above. I am sure the reputation of Sandy Park as a Conference centre has been enhanced by the great service that you all provided to us yesterday and I am looking forward to returning in March for the end of Festival event which I am convinced will be a sell out.
Tony Jordan, Devonshire Freemasons
A huge thank you to you, Henry and the rest of the Sandy Park team! As you know I have worked with many venues over the years and your team completely blew me away.
The professionalism, organisation and level of service was first rate. The meal was excellent and still hot.
The feedback we have had from our staff regarding the event has been the best yet.
We will be back next year without a doubt!
Claire Chapman, Vistry South West
I would also like to take the opportunity to thank you and your colleagues. The room was great and everyone felt very safe with the social distancing measures you had put in place. Please pass on my thanks to Marcus who was fantastic throughout.
We will certainly look to book you again for future meetings and events.
Karen, Pencarrie
We are very pleased with how our exams ran yesterday, thanks in no small part to your thoughtfulness toward facilitating our requirements and the fantastic support from your team.
Magda was brilliant throughout the day making sure things were right and that we had everything we needed.
On a personal note, having your support and the use of your facilities made my role much easier than it might have been so thank you.
Adrian, Devon & Somerset Fire and Rescue Service
The lady on reception on arrival was very friendly and helpful, Magda was a super star she helped with all of our needs with a smile on her face (under her mask of course), great customer service making sure that everything ran smoothly. She had a gentleman working with her for the food and cleaning of the room and he too was very courteous.
We were very impressed with your Covid safety and would definitely recommend you to others.
I am sure that we will be returning to Sandy Park as our people fed back that it was a great venue.
Julie Smalley, South Western Ambulance Service NHS Foundation Trust
Thank you so much for all your help – it was greatly appreciated. We were certainly well looked after.
All the staff were brilliant and the venue looked stunning. The food also was lovely – I did a walk around and had a few conversations and everyone was really enjoying it.
Kimberley, Barratt Homes
Just wanted to send a quick thank you, superbly looked after once again by Craig and the team.
If only we could box you and the team up and have you at every venue – people could learn a lot!
Louise, Simply Biz
I just wanted to say a huge thank you for all of your and the teams help and support towards the Property Awards yesterday. We are getting some great feedback this morning.
We are meeting next week to debrief with the team and if any feedback comes in regarding Sandy Park then I will of course pass this onto you.
Thank you again for a great evening and please could you thank all staff involved at Sandy Park for all their hard work last night.
Jasmine, Michelmores
A huge thank you to you and your colleagues who were involved in helping to organise the event yesterday afternoon.
The event went extremely well and the service we received was fantastic! The food was lovely and the dietary requirements were met. A slight hiccup with the refreshments as I thought I had ordered teas/coffees to accompany the food, however this was dealt with quickly and professionally.
I will certainly consider using Sandy Park in the future and would recommend it to our stakeholders/colleagues.
Kirsty, Serco
We had a fantastic day yesterday so must pass on how helpful your team were. There were a few technical issues in the morning but Rob and the team were always on hand to help and nothing seemed like too much trouble.
The food was great and the team were really quick to respond with replenishment and dietaries, which was a great help with us all being so busy.
I wanted to make a special mention to Ian as well. As you know this was our SEND conference, and we had a lunchtime performance from a local schools Taiko Drumming group made up of children with Special Educational Needs. He was brilliant in welcoming them, helping them with all of their equipment and just generally making them feel at ease in what for them was quite an overwhelming situation. He really couldn't have done enough so massive thank you to him for his efforts with this, and indeed throughout the day as well.
Jess, Babcock
Just wanted to take the opportunity to thank you yourself and to all of the team who helped assist us during in the day, so help us deliver a very successful event.
From the start communication with yourself has been perfect and timely, which is something I hugely appreciate. You have been accomodating to my numerous site visits, as well as Marcus assisting me up to the event with advice and slide decks. On the day Craig was amazing, there for us when ever we needed him and always happy to help, it really helped me to relax and concentrate what I needed to do!
The catering staff all helped perfectly, especially with bringing food out and clearing tables, with little noise to disturb our delegates.
As mentioned before, Sandy Park is a premium venue for the region and as we start to lay the foundations of next years confefence, I have no doubt that it will be top of the list for us to use.
James, NHS
Sandy Park is a venue we use regularly and I can highly recommend them to others for business to business events. Excellent, efficient and caring staff and great food and a warm welcome - consistently.
Helen, Business Network
We have used Sandy Park a few times over the past 5 years and it is consistently good. Spacious meeting rooms with adjacent catering space, ample parking and easily accessible. Very helpful and efficient staff from the booking team to the onsite team. Meeting facilities are on the whole pretty good. They offer good value. Our delegates scored facilities and catering over 92% as 'good' and 'very good', the top choices.
Siobhan, Cactus Events
Well what can I say, everything was perfect. Marcus and the team were fantastic. Nothing was too much trouble. We were so pleased with this venue and honestly could not fault anything.
Thanks again for making this a great event for us.
Lynsey, Hays Travel
I just wanted to formally say a huge thank you for all of your, and the team's, efforts on Friday evening for the Evening with Warren Gatland. The event ran smoothly, the service was prompt and professional, and the food looked delicious (unfortunately I didn't get to try it myself but have heard nothing but positive feedback!).
Please extend my thanks to all of the team, and I look forward to working with you in the future for plenty more events at Sandy Park!
Hollie, Concierge UK
A huge thank you to you , Magda and all of the team at Sandy Park for your conferencing hosting today on Tuesday 18th May 2021. As you will be aware I had erroneously booked Wednesday 19th May but turned up today , a day early, along with senior delegates from across the UK. In less than half an hour, you were able to turn around an alternative conference room for me, produce a fantastic lunch and host us with grace, charm and genuine customer service, It is truly appreciated. A first class service from a friendly team.
Rich, Devon & Cornwall Police
We were extremely well looked after at Sandy Park last week and lots of our attendees commented on the excellent COVID restrictions in place.
I also had lots of nice comments about the food, which was delicious!
Many thanks for your help with this event and please pass on my thanks to the team who were all so helpful on the day.
Louise, RGB Building Supplier
This is the second time that we have used the venue and I have to say that the facility along with the services offered were fantastic. We will be coming back to you for future events that we will be throwing.
Barry Robertson, UK Telecoms
I wanted to write and thank you and your team for making our Management Away Day a great success. I've had fantastic feedback from my colleagues, and we'll definitely use Sandy Park in the future.
Rachel, The Met Office
Sandy Park continues to be one of the best venues we use, the staff efficiency is off the scale and Magda is an absolute force to be reckoned with in terms of organisation. The food was great, good selection and really tasty and we were looked after impeccably.
Louise Wilson, Simply Business
On behalf of ICAEW South West I would like to thank you, Henry and all the staff involved in making the event such a great success. A particular thanks to the lady who was running the bar, who I am embarrassed to say I have forgotten her name, but she was extremely helpful throughout the evening. The feedback from our guests has been excellent.
Trudi Coles, ICAEW