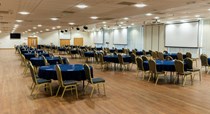 The Exeter Suite
Theatre Style: max 825
Dinner Style: max 600
Cabaret Style: max 487
The crown jewel within the Sandy Park complex, the spacious and light-filled Exeter Suite - which boasts two private bars - is the largest on site and boasts the latest in audio-visual technology including: four high-definition data projectors with 4.4m wide screens, two additional projector screens, five large plasma screens and an internal PA system, with a selection of microphones on offer to suit different requirements.
Not only ideal for conferencing and meeting space, the fully air-conditioned Exeter Suite has hosted awards shows, business exhibitions, charity gala events, as well as events put on by Sandy Park itself, including Comedy Nights, Ministry of Sound and in-house sporting events.
The suite also has a high definition camera, allowing speakers or other activities to be displayed across the screens both in the Exeter Suite and throughout the building. Delegates and organisers can enjoy wireless streaming of videos and presentations from their devices to the screens via the Apple TV system installed.
One of the most interesting and practical features of this suite is that it can be split into two rooms by a floor to ceiling partition wall. Each of these rooms can comfortably seat up to 390 guests. This convenient feature lends itself very well to meetings or events that require either a separate breakout space, networking zone, exhibition area or catering space.
Contact Us
For more information about our spaces or to arrange a showround please do not hesitate to contact a member of our Sales Team on 01392 427 427 or alternatively click here to send an email.
Room Features
Private bar
Disabled access
Same level delivery access
Staging
Can be split into 2 rooms
4 Panasonic SOLID SHINE HD Laser projectors with 4.4m x 2.25m screens
2 data projectors with 2.4m x 1.8m screens
1 75" plasma TV, 3 60" plasma TVs and 1 37" plasma TV
PA system & microphones
Apple TV
IR Audio Hearing System
High-definition camera
Air-conditioning
Natural day light
WiFi
Room Specifications
Dimensions: 37.7m x 17.4m (674m²)
Split into two rooms - Dimensions: 18.8m x 17.4m (342m²)
Ceiling height: 2.85m (max 3.5m)