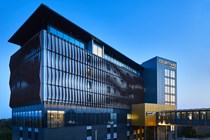 It's official, the The Sandy Park Hotel is open!
This spectacular, 250 Room development is the latest addition to the increasingly impressive Sandy Park site. Ideally situated alongside the M5, this beautiful hotel is the perfect base, whether you're planning on exploring the South-West or conducting business at Sandy Park.
The Sandy Park Hotel, Exeter features a fully-kitted exercise centre as well as a breath-taking top-floor restaurant and cocktail bar, with panoramic views across the Exe Estuary and beyond. This beautiful restaurant is described as 'one of its kind for the area' and will provide a 'unique dining experience for guests and visitors', including two private dining rooms, serving locally caught fish from Brixham, prime Devon red beef, alongside other exquisite produce from across the region.
The four-star facility boasts an impressive glazed bridge link to Sandy Park, creating a connection with the stadium that will offer travelling supporters or event attendees the perfect opportunity to stay on the doorstep.
We will be offering Exclusive Room Rates and Packages for individuals hosting Events & Conferences at Sandy Park so why not get in touch with our Events Team to find out more about enjoying the very best hospitality in the South West!
Email: events@sandypark.co.uk