Will Young, Corrine Bailey Ray & Natalie Imbruglia join Party on the Pitch Line Up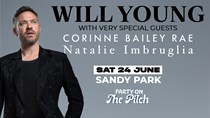 Two-time Brit Award winner, Will Young, is the second headline act of what promises to be a busy summer of music at Exeter's Sandy Park Stadium.
The English singer/song-writer shot to fame in 2002 when he was crowned the inaugural winner of ITV's Pop Idol – and his double A-sided debut single 'Anything is Possible / Evergreen' released just weeks after his triumph became the fastest-selling debut single in the UK.
Since then, Will has gone on to achieve worldwide success, undertaking numerous concert tours, multiple honours, as well as estimated world sales of over eight million albums.
No stranger to Exeter, he was a former student at the University of Exeter as a teenager, and he will be supported on the night by the award-winning Corinne Bailey Rae and Natalie Imbruglia.
Best known for her 2006 single 'Put Your Records On,' Corinne was named the number-one predicted breakthrough act of 2006 in an annual BBC poll of music.
Her debut album of that year saw her become the fourth female British act in history to have her first album debut at number one. Since then, she has been nominated for three Grammy Awards and three Brit Awards, as well as winning two MOBO Awards.
One of Australia's most loved pop artists, Natalie first stole our hearts over a quarter of a century ago with her chart-topping smash hit cover of the iconic track, Torn, the most played song on Australian radio since 1990! 
Since then, she has released six studio albums, and in 2021 she made a triumphant return with her critically acclaimed, Top 10 album, 'Firebird'.  Natalie has won eight ARIA's, two Brit Awards, one Billboard Music Award and received three Grammy nominations.
Most recently, Natalie had a cameo in the final-ever episode of Neighbours where she played Beth Brennan through the 90's and won the third series of the UK version of The Masked Singer.
The announcement is part of Sandy Park's 'Party on the Pitch' concerts, which will see the Exeter venue welcome some of music's biggest names to the region this summer as it opens its doors to live outdoor concerts for the first time ever.
Staged over two separate weekends, Sandy Park promises to create a magical musical experience for people of all ages over the weekends of June 17/18 and June 24/25.
Will Young, Corinne Bailey Rae and Natalie Imbruglia will be performing in Devon on Saturday, June 24.
More big-name acts are set to be released in the coming days, so watch this space for more information
Want to enjoy Will Young, Corinne Bailey Rae & Natalie Imbruglia in style?
Why not check out our hospitality options for an evening you'll never forget!