Sandy Park Hotel starting to take shape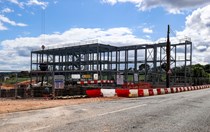 By Mark Stevens
14/7/20
The skyline around the new £35 million pound Sandy Park Hotel is changing as steelworks for the structure starts to take shape.
Work on the state-of-the-art, 250-bed, eight-story development began in mid-January and is continuing apace, this despite the current coronavirus outbreak which has affected the daily workings of people across the world.
Having already completed the major groundworks – including the foundations and pilings – plus a new drainage pipe under the M5 motorway, which will take rain water from the hotel and Sandy Park Stadium into the nearby River Clyst, the ring beam foundations and steelworks are now being implemented.
As these latest pictures from the build site show, the new development is advancing by the day.
"The steelworks that you can see currently are about a quarter of what needs to be done," said Exeter Rugby Club chairman and chief executive, Tony Rowe OBE. "These works are due to take about five months, but by the end of August the first four floors will be built with the aim of having the second four floors completed by November.
"Over these next few months people will get to see the true scale and size of the hotel development. The work itself, however, is progressing as planned and a lot has happened already since we did the initial turf-cutting back in January. I'm pleased to say that we remain on plan to have the hotel open in late 2021 and that the project is still within budget."
In addition to housing 250 bedrooms, the hotel situated off Old Rydon Lane will provide leisure facilities on the entry floor, which includes a lounge, a snack and coffee bar, as well as a purpose-built business centre. Also included in the designs, which have now been finalised, is a rooftop cocktail bar, together with a Fish & Steak restaurant that boasts picturesque views down the River Exe Estuary and towards Torbay.
Coming under the worldwide Courtyard by Marriott brand, the four-star facility will also boast an impressive glazed bridge link to Sandy Park, whilst the basement of the hotel will provide spa and fitness facilities, including a sauna, steam room and gymnasium.
The rooftop restaurant is described as 'one of its kind for the area' and will provide a 'unique dining experience for guests and visitors', including two private dining rooms, serving locally caught fish from Brixham, prime Devon red beef, alongside other exquisite produce from across the region.
As well as helping to drive additional business towards Sandy Park Conference & Banqueting Centre during the week, the hotel will also be a welcome addition to supporters heading to the city for match-days involving the Exeter Chiefs.