Sandy Park donates food to homeless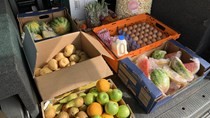 By Flo Eggins
20/03/2020
Exeter venue Sandy Park has donated a raft of food to a local homeless charity amid the COVID-19 Coronavirus pandemic.
Preparations were already well underway for forthcoming games and events, and the Sandy Park team wanted to ensure the food did not go to waste.
Linda Sillifant, Kitchen Manager at St Petrocks House, said: "The community spirit has been absolutely fantastic. Lots of venues have been donating their food to us following closures.
"It's been quite overwhelming how everyone's pulling together and trying to support the homeless of Exeter."
Sandy Park Head of Food and Beverage, Marcus Cottle, added: "It's great to be able to have a positive outcome from the current situation. We hope that the food donated can make a difference to the homeless in Exeter."