Meet & Dine - the new way at Sandy Park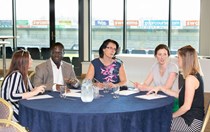 By Mark Stevens
13/10/20
Business clients using Sandy Park can now add to their overall experience by adding either lunch or dinner to their visit through the venue's new pop-up licenced restaurant.
With the Exeter-based Conference & Banqueting facility busy welcoming back customers following the easing of lockdown, the Sandy Park team have put together a mouth-watering, variety of options that allow companies to make the most of their day with us.
Choosing from either a two or three-course dining option, Sandy Park customers can sit back and relax - either before meetings or afterwards - by tucking into the finest Westcountry produce, produced by Head Chef, Craig Beacham.
Working within all the current Covid-19 guidelines, including six guests at a table, Sandy Park is ready to welcome customers into the new restaurant for a brand-new business/dining experience.
Bev Gratton, Sandy Park's Sales and Events Manager, said: "Sandy Park is looking to work with all of our customers, both old and new, to create an experience which offers something a bit different.
"We feel the idea of offering up the option of serving a lunch or a dinner, either before or after a meeting, is something that will be very appealing to businesses, who are looking to meet up in a safe, yet relaxed environment."
To find out more or to book at event here at Sandy Park, simply email events@sandypark.co.uk