Exhibitions bring hustle & bustle back to Sandy Park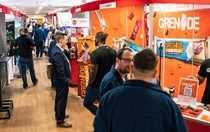 By Jack Lewis
21/04/22
As the world cautiously emerges from the cloud of Covid-19, it is time for venues like Sandy Park, to brush away the cobwebs of quiet meeting rooms and virtual conferences, as we look towards a more positive outlook for 2022 and beyond.
It has undoubtedly been a challenging period for the hospitality industry, and to see the usually lively stadium silenced by the pandemic, has been a stark reminder for everyone to enjoy the hustle & bustle that our typically busy schedule generates.
Thankfully, the first quarter of this year has seen a flurry of exhibitions, large conferences and meetings, bringing Sandy Park bursting into life. Our events have been wonderfully well attended, and with the return of jubilant crowds to Exeter Chiefs matches, the sense of normality is a welcome relief to everyone.
That sense of re-emergence has been palpable amongst the clients hosting their events with us over the past few months. Whilst the pandemic forced everyone to adapt, with digital technologies replacing the usual face to face interactions, the return of in-person events has filled many with a sense of balance after such an uneasy time. There have been exhibitions drawing crowds of vendors and clients from around the country, and the conversations have been centred around the necessity of in-person interaction, both commercially and personally.
In recent months we have welcomed amongst others, Bidfood UK, who hosted their fantastic tradeshow featuring some of the world's most recognisable consumer brands, as well as hosting the Southwest leg of the National Apprenticeship Show, showcasing the exciting opportunities available to young people in our region.
The opening of the Courtyard Exeter Sandy Park hotel, marks another hugely exciting chapter for the development of our site, and will bring a wider audience to Exeter. The expansion affords us the opportunity to book larger scale, international exhibits and it is incredibly exciting to see the enthusiasm with which the launch has been received. Sandy Park is rapidly becoming one of the most complete events sites in the country, and the future looks bright.
If you're interested in hosting an event with us, then get in touch with our team on events@sandypark.co.uk