Christmas 2021 Menu Revealed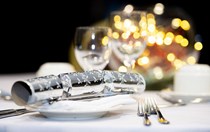 By Mike Smith
18/1/21
After what has been a tough year for us all, the team at Sandy Park have been working hard to ensure that Christmas 2021 is going to be the best celebration yet.
Sadly, we were unable last year to host Christmas hospitality at the home of the region's premier sporting club, Exeter Chiefs, due to restrictions imposed by the Covid-19 outbreak. However, worry not, as we are now taking bookings to secure a place at Sandy Park in 2021.
Packages start from just £26 with a range of new and delicious menus created by Sandy Park's Head Chef, Craig Beacham, and his team.
The ever-popular Live Band Nights return, this year with new band Alibi. If it's a world-class show you are after, this line-up of top UK professional musicians will not disappoint.
With each member having masses of experience at events across the globe, the popular foursome came together with the scope of putting something new and fresh into the live party band scene. A three-course meal is also included in the package, plus there will be a photobooth to capture memories of the evening.
Those interested in Live Band Nights can book places on Friday 3rd,10th and 17th of December, as well as Saturday 4th, 11th and 18th of December, priced at £39.50 per person.
Alongside our Live Band Nights, we are also holding Festive Party Nights, which offer a week-night joint party, as well as Christmas Lunches. Both are popular options for those whose weekends get filled up quickly.
Sandy Park's suites are also available to hire for private parties, a perfect option for larger groups who want to put their own stamp on a Christmas party.
To find out more about our Christmas 2021 packages, click here to view our Christmas menu or click here to contact us.