Sandy Park Charity Offer 2022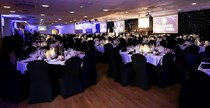 Event organisers have a common goal: to make sure everyone attending their event has an enjoyable experience. However, with charity and fundraising events, there are often extra objectives to the event including getting key messages across to the audience and asking for their support.
Here at Sandy Park, we host several charity dinners and events each year – here are our top five tips for a successful fundraiser:
1. What are your goals?
Before you start anything, think about what you're aiming to achieve through the event. Is it to raise funds? Is it to reward volunteers or simply to raise brand awareness? Once this has been decided, you can begin to formulate an idea of the kind of event you want to hold and where you want to allocate your budget.
It's also important to define your target audience for the event – this will help in your planning and marketing.
2. Draft a budget and stick to it
Drafting a budget is one of the most important parts of planning an event. A realistic forecast of expenditure and income will allow you to plan the best way to minimise costs and maximise revenue, plus avoid any disappointment following the event.
If your key objective for the event is raising awareness, consider focusing on PR and marketing, whereas if the event is a gala dinner, think about extra touches for guests so they feel their ticket price is good value.
3. Pick a venue
The venue for your event is likely to be one of the largest costs of your overall budget, so it is important to choose the right place.
At Sandy Park, we have a special charity package to ensure that good causes receive the best value for money. This is something that many event venues will offer, so it is always worth asking for discounts or extras that can be added. Being flexible with dates may also help in securing the best price for your venue.
Other key considerations are around delivery of the event. Do you require furniture, decorations and audio-visual technology, and is this included in the venue price? Are staffing costs included?
If your event requires catering, this is also likely to be a significant cost, so something to carefully consider. Sandy Park has its own in-house catering team and offers a variety of menus to suit different events and budgets, however this will not be the case for all venues. If you are able to choose your own caterers, don't forget to consider anything additional such as chefs, waiting staff, kitchen space and equipment hire.
4. Promote, promote, promote!
The success of any fundraising event depends on who attends it. Set aside a marketing budget and create a timeline of marketing activity to ensure you can effectively target your audience.
Create a plan which includes a mixture of traditional marketing – magazines, newspapers, TV, radio – and digital channels including social media, e-mail marketing and online advertising.
Sponsors and other event partners – the venue, speakers or special guests, media partners - may also be able to assist with marketing, either by contributing to a marketing budget or sharing the event with their database and own marketing channels.
The marketing timeline should also include plans for post-event marketing – this can help raise more funds, increase awareness of the charity or cause and promote future events.
5. And finally…
The big day is nearly here and it's time for the final checks to make sure the event runs smoothly, all your guests enjoy themselves and most importantly, you fulfil your fundraising goals.
If you're working with an event planner at your venue, make sure they have all the details they need in plenty of time such as final numbers, dietary requirements or risk assessments.
An event plan and running order is key, and all involved should have seen it in advance of the event. A team briefing should also be planned to ensure that everyone's role and responsibilities are clear.
Lastly, don't forget to thank anyone who has contributed to the event – this can be done at the event itself, through personalised messages and in the post-event marketing and will go a long way in cementing your relationship with donors, volunteers and partners.
If you are planning a charity event in the South West, Sandy Park is a modern and flexible venue that can be transformed to make your event truly memorable.
For more information about our event spaces or to arrange a showround, please do not hesitate to contact a member of our Sales Team on 01392 427427 or events@sandypark.co.uk