Baxter Suite gets Technical Makeover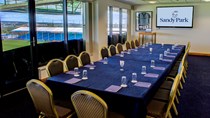 Sandy Park Conference & Event Centre are delighted to announce that the Baxter Suite has had a refurbishment, now offering state of the art facilities for Video Conferencing, Meeting and Webinars.
As we continue the development of our site into one of the leading events facilities in the South West, our focus has been on ensuring that we are catering for the changing nature of the modern work environment. The consequences of the Covid-19 pandemic have illustrated the necessity for greater technological connectivity, and the requirements for companies and individuals to work collaboratively on a global scale. We are ensuring that the upgrades that we make to our systems are future proofed and relevant to the changing requirements of the our clients.
A new 80-Inch Plasma TV, featuring HDMI, VGA and 3.5mm audio connections to the screen has been installed, along with a Logitech PTZ HD Camera and Boardroom Speaker & Microphone system. We have looked at creating a seamless conferencing environment, bringing groups together and minimising any technical interference or barriers which prevent the natural collaborative feel of in-person working.
All of this can be run from dedicated 20Mbps Uncontended Ethernet of Wi-Fi internet Connections, guaranteeing you a seamless link to your colleagues or clients, no matter where they are in the world.
If you're looking to host your meeting or conference in the South West, or interested in connecting with clients and customers world-wide, contact the team here at Sandy Park, and with January's Pick Your Perk Special offer, there has never been a better time to book.
Contact: events@sandypark.co.uk or Call: 01392 427427