Hybrid Events prove to be Winning Formula at Sandy Park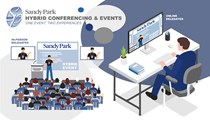 As we continue to adapt to the changing terrain of a world emerging from the Covid-19 pandemic, the nature of work and communication has been forced to rapidly evolve, and here at Sandy Park we have placed key focus on ensuring we are at the forefront of this technological evolution.
Hybrid events have proved to be hugely successful, offering the opportunity to combine the accessibility of a virtual event, with the interactivity of live presentations, opening up events held at Sandy Park to a truly global audience. This new style of meeting has transformed the opportunities for our clients, expanding the diversity of events we are able to deliver and opening up the South West without the limitations of geographical restriction.
The success of our Hybrid events has come from the flexibility that we are able to offer. Ultimately we have found over the past 18 months that adaptability has become a key factor in the development of our events and by ensuring our Hybrid products can be tailored to the requirements of the client, we have been able to continue to offer a world class service throughout changes in regulation and government advice.
There are a variety of packages on offer, and between our skilful events and tech teams, we have been able to offer an extensive range of technological solutions to cater for the needs of our clients.
As we look to the future, it is clear that the requirements on conference venues will be to integrate technological solutions that open them up to the wider digital community and here at Sandy Park, we have used the changes enforced on us through Covid-19 as an opportunity to lay these foundations.