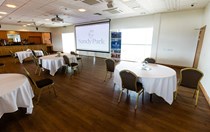 As the world continues to get with the grips of the Covid-19 outbreak, Sandy Park is working tirelessly behind the scenes to ensure we will be able to offer a welcoming, friend and, above all else, safe working environment for all our customers once we are able to re-open Exeter's premier, state-of-the-art Conference & Banqueting Centre.
We saw in late 2020 how great it was to welcome people back through our doors, whether it be for meetings, pop-up restaurants or other functions.
We remain excited for the day when restrictions are again lifted and that we can once more provide the perfect opportunity for our customers to sample the delights of Sandy Park.
As always, we thank all of you for your continued support and patience during these tough times.
Throughout the lockdown period – and more recently – retained staff at Sandy Park have been working extensively behind the scenes to demonstrate that it has followed the official Covid-19 guidance.
This has included key staff undergoing new training, as well as Sandy Park itself achieving the industry-standard 'We're Good To Go' mark, which helps reassure customers that the venue adheres to all Government and public health guidance.
Since reopening in August 2020 after the countries first Covid-19 lockdown, it has been great to see customers return to Sandy Park enjoying our vast purpose built conference and banqueting centre in a Covid secure way. However, due to government advice on the resurgence of the Covid-19 virus, we have temporarily stopped hosting essential meetings until further notice.
For more details on what Sandy Park has to offer, please call 01392 427427 or email events@sandypark.co.uk