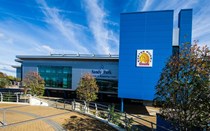 Since reopening in August after the countries first Covid-19 lockdown, it has been great to see customers return to Sandy Park enjoying our vast purpose built conference and banqueting centre in a Covid secure way.
However, due to the second lockdown caused by the Covid-19 pandemic which was announced by the UK Government on Saturday, we can now confirm that Sandy Park will be shutting its doors for meetings until December 4th as per government advice.
Our hope that as and when we receive further information from the government, we can once again welcome you back safely to Sandy Park.
We thank you for your business and patience during this tough time.
During the lockdown period – and more recently – retained staff at Sandy Park have been working extensively behind the scenes to demonstrate that it has followed the official Covid-19 guidance.
This has included key staff undergoing new training, as well as Sandy Park itself achieving the industry-standard 'We're Good To Go' mark, which helps reassure customers that the venue adheres to all Government and public health guidance.
Sandy Park Managing Director, Natasha Pavis, said: "It would be a huge understatement to say the past few months have been a challenge for all us. However, we are excited that we can at last start to welcome customers back to Sandy Park.
"We are aware, of course, that we are now operating in different times, but as a venue we are conscious of the important role we have to play in ensuring the safety of our staff and our customers.
"It's therefore vital that now we are able to open again, albeit for small groups, we provide a safe and welcoming environment, which helps to imbue confidence amongst customers."
Customers who will use Sandy Park will be asked to adhere to new regulations and procedures during their visit.
For more details on what Sandy Park has to offer, please call 01392 427427 or email events@sandypark.co.uk