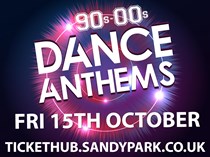 New Event to Sandy Park - Sandy Park Sessions' in assocation with spinback productions.
Sandy Park will be transformed with state-of-the-art sound and light systems for 'Club Classics' – a new event which will bring together tub-thumping tunes from 90-'s - 00's dance anthems
DJ's include -
Alison Limerick
Baby D
Terry Farley
K-Klass
DJ Hatchett
The venue's Exeter Suite will be transformed into a nightclub for the night with a separate VIP suite and bar for VIP ticket holders.
We are offering up to 50 super early bird standard tickets for £10.00, 150 early bird tickets will be available for just £12.00, following which the standard ticket price will rise to £15.00. We are also offering 50 early bird VIP packages for £17.00, after which tickets will be priced at £25.00 per person, which will include queue jump, a separate lounge, bar and free cloakroom.
There will also be hot food available throughout the night with our catering team on hand to make sure you're fed and watered!
Doors open at 9:00pm, with the event finishing at 2:00am.
Entry Terms and Conditions
This event is for those aged over 18 only. Proof of age will be required.
No entry after midnight
No weapons or imitation weapons
No externally purchased food or drink
No glass (with the exception of perfumes)
No drugs, controlled substances or associated paraphernalia
No explosives or fireworks
No marker pens
No lasers
No masks
No noisemakers
No professional photography or videography equipment
Other items may be refused access at the discretion of venue management
Management reserves the right to refuse entry
Please be aware of fraudulent, fake or duplicate tickets.
Unfortunately we are unable to do anything about this other than to advise you to contact the police and report it. We will be unable to allow you entry if you have purchased a fake or duplicate ticket.
Please be careful and follow these guidelines if you do decide to buy someone else's ticket:
Try to only buy your tickets from someone you know or a friend of a friend - never buy a ticket from a stranger or someone who has messaged you after posting on the page
Even if a ticket looks real it may have been sold numerous times and will be invalid after its first scan
If you do decide to buy from a stranger (at your own risk) then check their profile and make a judgement on whether they are real or not (check for mutual friends, etc.) - but please note that even if they are real then they may still be selling fake or duplicate tickets
If you risk buying a ticket from a stranger, please only buy one at first - you may lose more money if you buy multiple tickets at once
Try to meet and buy the ticket in person in a public place - a scammer is less likely to take the risk of meeting you
If you think you have been scammed then please contact the police with any details you have on 101 - unfortunately we can't report scammers because technically we aren't the victims. Please do this as it may help others from being scammed in the future (some people have been prosecuted recently for running huge scam operations, let's try and put a stop to this!)